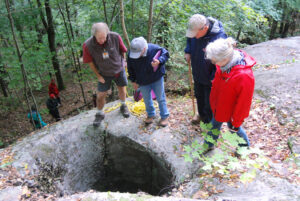 The Harburn wells are a series of natural boreholes drilled into a bedrock-knob landform, high above the valley floor of the Little Drag River.  They sit quiet and undisturbed in a remote forested location, well off the beaten track. Little is known about them and they are rarely visited.  The wells are as mysterious as they are spectacular. There are ten or eleven in all, clustered together on about an acre of hillside set in an Algonquin-like landscape. They range in size from about three feet in diameter to about three metres. All of them are perfectly round and perfectly cylindrical and all of them have been bored into a solid bedrock knob of Precambrian gneiss.
Although the surrounding property is all private, the wells themselves are on a tiny parcel owned by the Municipality of Dysart et al. The municipality obtained the wells years ago in trade for a section of road allowance with the landowner at the time.  The location is remote. There is no road or trail to the wells and there are no signs indicating their presence. Finding the wells would require a local person familiar with them to guide you there.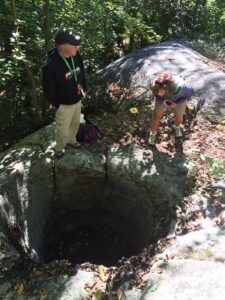 You will need a guide. Do not follow the directions on any website, that they could by written in 1980 and are out-of-date. Nor should you use the any GPS coordinates, doing so will result in your trespassing on private land not belonging to the municipality.
Barrie Martin of Yours Outdoors offers guided tours of a number of local attractions, including the occasional tour to the Harburn wells. You can contact Barrie and ask for the date of his next tour. If enough people call, he'll schedule one soon.
Care should be taken when visiting the wells. They are unmarked and unfenced. It would be difficult to extract a child or pet who strayed too close and fell in.