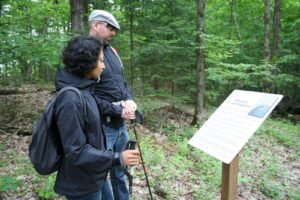 One of the best lookouts in the Haliburton Highlands is atop Sir Sam's Ski and Ride.  Overlooking Eagle and Moose lakes, about 15 minutes out of Haliburton Village, the hill allows for the rare experience in the Highlands: a wide open sky and a clear view of lakes below.  Stand at one of the hill's lookouts and pivot 180 degrees and you'll glimpse a piece of Eagle Lake's past – one that included harvesting wheat and raising cattle nearly 100 years ago.
The history of the ski hill, over 50 years old, has been carefully chronicled along a special six-kilometre hiking trail on the property in celebration of the milestone year.
Sir Sam's Ski and Ride is now a ski hill and mountain bike destination, but when it was first developed by Sir Sam Hughes, it was a summer resort and subsistence farm.  Atop the hill, you can still see the stone rows created to make way for fields and the remnants of an apple orchard before you reach the only remaining structure from that time: a farm house.
"The reason we know it's wheat fields is there's a picture of a … combine harvester on top of the hill cutting the wheat," Sir Sam's Ski and Ride co-owner Chris Bishop explains. "Sir Sam Hughes did it because that's where he got his flour. You had to be self-sufficient back in those days," he says.  In 1916, Hughes bought 2,500 acres of land around Moose, Eagle, Basshaunt and Glenn lakes and started building a summer home, which he completed in 1919.  "Sir Sam Hughes was minister of militia in the First World War. … He owned a newspaper in Lindsay and was the local member of parliament for Victoria Haliburton back in the early 1900s," says Bishop.  The family sold the property a few years after Hughes's death in 1921.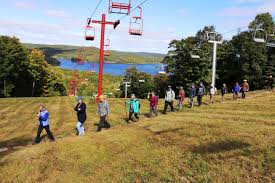 It was run as a hunting and fishing lodge before being purchased by the Proctor family, who turned it into a summer resort.  That family owned it until 1965 when Bob Bishop Sr., a real estate agent who had heard the province had chosen the site as potential ski hill, bought it.
Towards the end of the hike, the winding path takes you to the original ski lifts – painted bright red. Bishop says even though those are the oldest lifts, installed in 1972, they still works the best.  The Bishops ran the ski hill and resort for several years until managing the inn became too much and in 1979 it was divided from the hill and sold to Jim and Liz Orr. (They sold it in 2013 to Ryan Cole.)
To access the six kilometre hiking trail, users pay a flat $5 fee for all-day access.
---