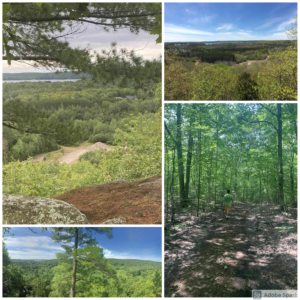 Circuit of 5 Viewpoints is a 5.3 km moderately trafficked loop with an elevation gain of about 229 m. The trail is located in the Algonquin Highlands, Ontario, Canada that features a lake and is rated as moderate to challenging . The trail is primarily used for hiking, trail running, and nature trips. Dogs are also able to use this trail.
This hike along classic Canadian Shield country is overlooking rugged valleys, placid rivers and amazing fall colours! below is a comment from recent hiker.
This trail is for intermediate to advanced hikers. It is rocky and has many steep climbs – up and down. We went after a night of rain. It was very muddy. Highly recommend proper hiking foot wear or you will be slipping plus troubles climbing. The views are lovely. The peacefulness and magnificence of nature is outstanding!
Trailhead Address: 2029 Little Hawk Road (County Road 13) – From Highway 35 North in Halls Lake, travel east on Little Hawk Road and proceed to the trailhead.
GPS Location: UTM Zone 17. T 0679034E 50000120N