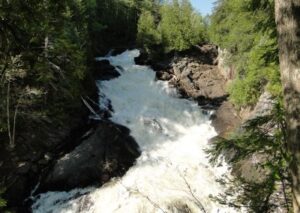 A little slice of heaven known as Oxtongue Lake can be found near the border of Algonquin Provincial Park. Oxtongue Lake connects the Haliburton Highlands to Algonquin Park via the picturesque Oxtongue River and Oxtongue Rapids. Ragged Falls Provincial Park is at the top of the rapids and considered one of the best waterfalls in Ontario.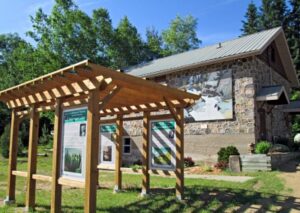 Oxtongue Lake is a year round outdoor enthusiast's paradise but also offers quiet solitude for those looking to escape. In winter, some of Ontario's best snowmobile trails are at the doorstep of Oxtongue Lake and has a variety of accommodations that will surely suit your needs.
The Group of Seven at Oxtongue Lake
Art enthusiasts can explore locations where Tom Thomson and the Group of Seven painted in the early 1900s; over 40 known paintings by these famous artists were painted on the Oxtongue River and Oxtongue Lake, including Thomson's infamous Northern River. In 1964 A.Y. Jackson specifically mentioned the Oxtongue River in his Canadian flag design submission to Prime Minister Lester Pearson and A.J. Casson frequented the Blue Spruce Resort later in his artistic career.
Two of the Group of Seven Outdoor Gallery murals are in Oxtongue Lake – one at the Community Centre next to the The Tom Thomson and Group of Seven Outdoor Art Exhibit ("Oxtongue River" by A.J. Casson) and the second at Algonquin Outfitters ("Northern River" by Tom Thomson).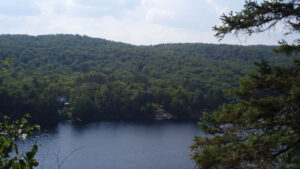 Natural Wonders
Like hiking? Try the Beetle Lake Trail for winding paths and a breathtaking view of the lake
Walk up to Ragged Falls and see why it got its name
Camping or canoeing in Algonquin Park? Visit our outfitters on your way to gear up
Arts & Culture
Visit The Tom Thomson and Group of Seven Outdoor Art Exhibit next to the Oxtongue Lake Community Centre and enjoy "The Oxtongue River" (A.J. Casson) mural on the side of the building. You are very close to where the painting was done!
Algonquin Outfitters features another outdoor mural of Tom Thomson's "Northern River"