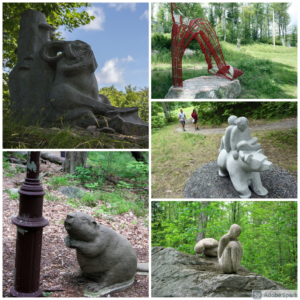 The Haliburton Sculpture Forest, in Glebe Park near the village of Haliburton in the Haliburton Highlands of Ontario, Canada, is a unique outdoor collection of sculptures by Canadian and international artists. The trails in the Sculpture Forest—for walking and bike riding in spring, summer and fall and skiing in the winter—provide changing perspectives of the forest and the sculptures in each of the seasons.
The Sculpture Forest experience, which is unstructured and unscripted, is ideal for families looking for an interesting outing, for those who enjoy outdoor trails, and for people looking for a unique artistic experience. A Sculpture Forest map is available on this website and at the entrance to the Sculpture Forest.
For the summer and fall of 2020, the Haliburton Sculpture Forest has partnered with Yours Outdoors, Haliburton County premier experience provider, to offer small group guided tours. Click here for more information.
Are dogs allowed in the Sculpture Forest?  –  Dogs are welcome. Dogs must be under the control of the owner. Please stoop and scoop and deposit in a garbage container.
Is there a cost for entry?  –  Entrance is by donation. There is a donation box at the entrance.
Is the Sculpture Forest accessible?  –  The Sculpture Forest Trails are wide and easy to walk on. The surface is fine compacted gravel or earth. The trails are not paved.
Can we walk or bike from Haliburton Village to the Sculpture Forest?  –  Yes – on the Head Lake trail – see the Village map for details.