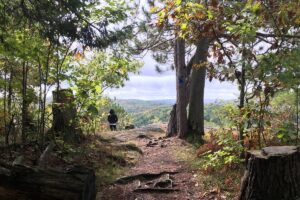 Folks have been climbing up to this vantage point for more than 60 years, although the James Cooper Lookout Trail did not offically exist until the land was donated by Jim Cooper and Eral Pitts. The trail will take visitors to a spectacular south-facing lookout for views of Maple Lake, Beech Lake, Boshkung and Twelve Mile Lakes.
The brave of heart will choose to start the trail directly from North Shore Road, where steep cliffs amongst a beautiful mixed forest provides a welcome challenge as well as great outdoor experience. For a more gentle ascent, drive up Mifflin Road, further eart along North Shore Road to a small parking area and follow the trail signs.
Either way, the resulting view is worth the effort. Binoculars are an asset on this hike, as is a camera for the fun photo opportunity at the top. A good couple of hours are easily spent here on a sunny warm day, so bring a lunch or a book and escape to the top of the Haliburton Highlands.