Buttermilk Falls is full of nature to discover, an outstanding vacation stop over destination when traveling through the Haliburton Highlands.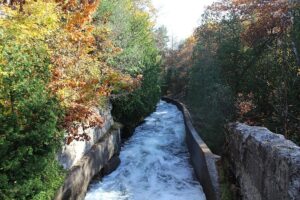 A great spot to stop and break up your journey with a small hike or family picnic.
The falls is located alongside a rapidly flowing river that drains Halls Lake into Boshkung Lake
Not all-natural – A concrete log chute transformed the original wood chute constructed back in the early 1800s
Excellent area for a family picnic – sufficient vehicle parking
Popular spot for a little bass fishing
Stretch the legs on a long trip
Bathrooms are readily available
Tumbling-waterway was once a path for logging on the way to the mill
Riverside trails enable walkers to follow the river from Halls Lake to Boshkung Lake
Wheelchair accessible except for riverside trail
Located Highway #35 at Halls Lake
Buttermilk Falls is can be found at 16090 highway 35 just north of Carnarvon. This tumbling-waterway was once the path for logs on the way to the saw mill. The original timber log chute was replaced in 1927.
On the top of the waterfalls there is a bridge that crosses over from the parking lot to a walking trail. From the bridge you can stand over the concrete sluice way for a great view of the water flow. There's a trail for walking that runs parallel to the water flow.
Enjoyable riverside trails make it possible for walkers to observe the waterway from Halls Lake to Boshkung Lake, it's a short .5km trek, but the hike varies in intensity depending on how close you want to get to the falls. The water is traveling incredibly fast and has some severe force behind it. It is recommended staying back especially if visiting with small kids.