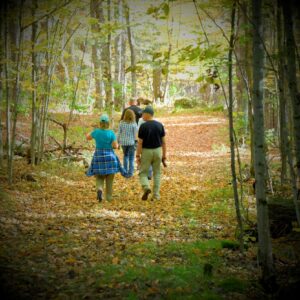 The Haliburton Highands Land Trust is very excited to announce the opening of Barnum Creek Nature Reserve!
The trails will be open to the public on October 16th.  CLICK HERE for Photos
The property is a spectacular example of the diversity of ecosystems in the Haliburton Highlands. The Reserve includes habitats ranging from Tolerant Hardwood Forest, Mixedwood Forest, Marsh and Swamp as well as Open Upland Successional Forest habitat which is reclaiming former agricultural land.
A significant component of the property is comprised of mature maple forest with abundant ground cover including wild leek, blue cohosh, leatherwood and maidenhair fern. Calcareous soils, which are limited in the Haliburton Highlands, are derived from fingers of marble, dolostone and limestone extending into the granitic rock that dominates the landscape.
The property is bisected by Barnum Creek which drains from Barnum Pond, located approximately 2 km east of the property, and flows into Barnum Lake, located approximately 6 km west of the property. The creek changes in nature as it passes through the property from a wide marshland on the east, to a narrow flowing creek, and finally to a series of beaver ponds. The creek serves as important habitat for moose, deer fox, wolf, beaver, porcupine and muskrat. Blue Heron and a wide variety of bird species are abundant.
Be aware that Covid-19 safety and distancing regulations are required when visiting Barnum Creek Nature Reserve.
Thanks go to the many supporters, funders and volunteers and especially to Margaret and Leopoldina Dobrzensky who had the foresight, the generosity and the genuine love for the land to donate this wonderful property to be protected in perpetuity. Please take a few moments to enjoy this interesting video featuring Leopoldina Dobrzensky in Connections: Our Land Our Stories.
The main entrance and small parking area are located at 1118 Gould Crossing Rd (Cowan Rd). (Five minutes outside of Haliburton, turn off of Gelert Rd. just across from the driving range onto Gould Crossing Rd. Parking during the winter is near the rail trail crossing.)
Consider adopting an acre ($50.00) of Barnum Creek Nature Reserve in recognition of that nature lover on your gift giving list. Personalized certificates are issued and charitable Tax Receipts are issued for all membership dues and/or donations