It's important to be prepared for anything, especially if you're new to hiking in Ontario or any other wilderness trail.
We teamed up with many of our friends at our local experience outfitters to create these key tips to make sure you have a safe and enjoyable trip:

Wear the right gear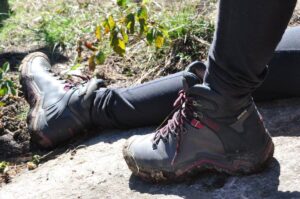 The first step to a successful hike dressing appropriately. Check the forecast before you leave, but be prepared for anything! Temperatures and weather can change quickly.
If you're hiking in the heat of summer, dress in sweat-wicking clothing. They will keep you nice and dry when you inevitably work up a sweat. Leave the jeans and cotton t-shirt at home, or you might become a human puddle!
Good hiking boots can make or break your hiking experience. Make the investment and buy a pair that provide you comfort and support.
Boots with a good sole will give you better movement over uneven terrain. Speaking of break, break your boots in BEFORE you leave. If you don't, you may experience some severe discomfort while on the trail.
Top your hiking look off with a hat. Baseball caps and full-brimmed hats both get the job done: protecting your scalp, shading your face, and keeping you cool.
Bring a backpack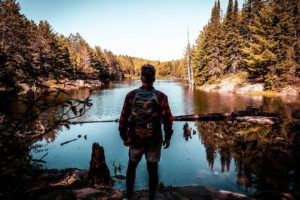 If you're going on a shorter trail, a smaller day pack should serve you just fine.
For longer journeys, a larger pack with an integrated frame will save your back and shoulders.
Fill your backpack with plenty of food and water. Hydration is key, especially on hotter days. Trail mix is a great option for the trail. It's nutrient-dense, and you don't have to worry about it spoiling!
Bring along a sweat-resistant sunscreen, first aid kit, and some extra clothes, but remember to keep it light. You'll be carrying these items for your whole trip!
Know the area and trails
Please do your research!
Visit our Hiking webpage, each trail will have a difficulty rating and a brief description of what to expect. Consider your whole group's ability when choosing a trail. As well, there are maps and/or brochures links to help you discover the great outdoors.
If you're in bear country, whistle while you walk. Bears are more scared of you than you are of them, and will steer clear if they hear you approaching.
Not much of a whistler? A bear bell will help announce your presence as you hike.
If ticks are in the area, do a full tick check once you get home, paying special attention to areas such as the groin, navel, armpits, and scalp and behind ears and knees.
Never hike at night!
Even the most experienced hikers can get turned around in the dark.
Trail markers are not always easily seen, and maps are harder to navigate at night. Dark trails can result in stumbles and possibly injuries.
Plan to make it off the trail before the sun goes down.
If you're cutting it close to sunset, bring a headlamp or flashlight for emergencies and ensure your phone is fully charged.